The phrase 'vegan granola cookies' conjures up an image of something healthy, maybe a trail mix cookie or an oatmeal cookie, right? Well, let me tell you something. Although these cookies ARE made with nutritious, whole food ingredients, they taste anything but healthy. These Pistachio Persimmon Vegan Granola Cookies have the perfect combination of salty and sweet, and are on par with the best chocolate chip cookies you've ever had.
That's a bold statement, I know. But it's true. These cookies are so delectable, you don't even miss the chocolate. And let's be honest, most of the best cookie recipes include chocolate.
To me, this recipe tastes like California, but I dreamt up this cookie recipe for all of my East Coast people who will be freezing for another two months at least. Have a cookie (or three) with a nice, tall glass of non-dairy milk. Warning: They are addictive! I ate pretty much the entire batch over the course of two or three days.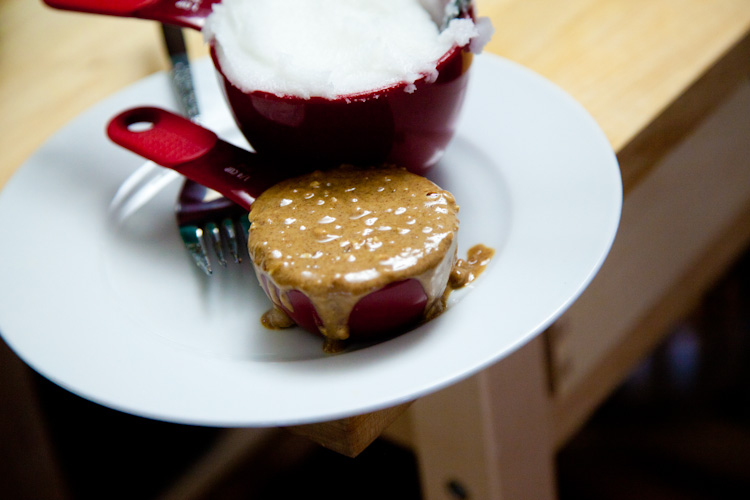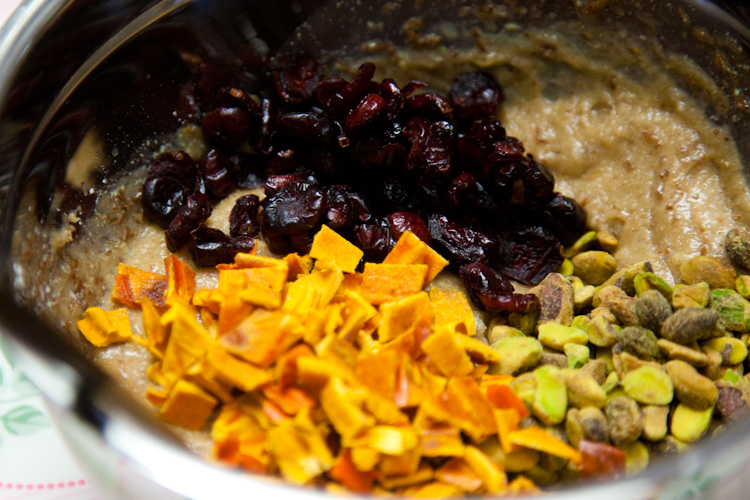 I was inspired to make these vegan granola cookies after meeting the owner of my favorite cafe, Holy Grounds, in East LA. He mentioned he's been looking for the perfect granola cookie for years, but no one has been up for the challenge. I meant to make him a batch and bring them down, but unfortunately I ate them all! Hahah, oh well. That just means they are extra delicious. 🙂
The flavor combination of the pistachios with the dried persimmon and cranberries is out of this world. The coconut oil  and almond butter make the cookies taste buttery and way more decadent than they actually are. Plus, these cookies are whole wheat, so basically guilt free. We made a super fun video to show just how easy it is to make these cookies. Check it out below!
[ingredients title="Ingredients"]
1 cup whole wheat pastry flour
1/2 teaspoon baking soda
1/2 teaspoon sea salt
1 cup coconut oil
1/4 cup almond butter
1/2 teaspoon baking powder
1 tablespoon ground flax seed
3/4 cup brown sugar
1 3/4 cups granola
1/3 cup dried persimmon
1/4 cup pistachios
1/4 cup dried cranberries
[/ingredients]
[directions title="Directions"]
Preheat the oven to 375 degrees. Mix the flax seed with 3 tablespoons of water and set aside to thicken.
In a large bowl, combine the flour, baking soda, and salt. Whisk to mix evenly.
In a separate bowl, combined the coconut oil and almond butter. Stir until homogenous.
Add the baking powder, mixing it in completely. Stir in the flax seed "egg." Mix. Then add the brown sugar. Stir until combined.
Add the bowl of wet ingredients to the bowl of flour. Stir until evenly mixed, then add the granola. Continue mixing.
Add the cranberries, persimmon, and pistachios. Mix with your hands to get all ingredients in the batter evenly.
Form the dough into little patties and place on an lightly oiled cookie sheet. Bake for ten minutes.
[/directions]
Did you try this recipe? Let us know how they turned out in the comments!