Loaded Shawarma Fries (Vegan + Gluten-free)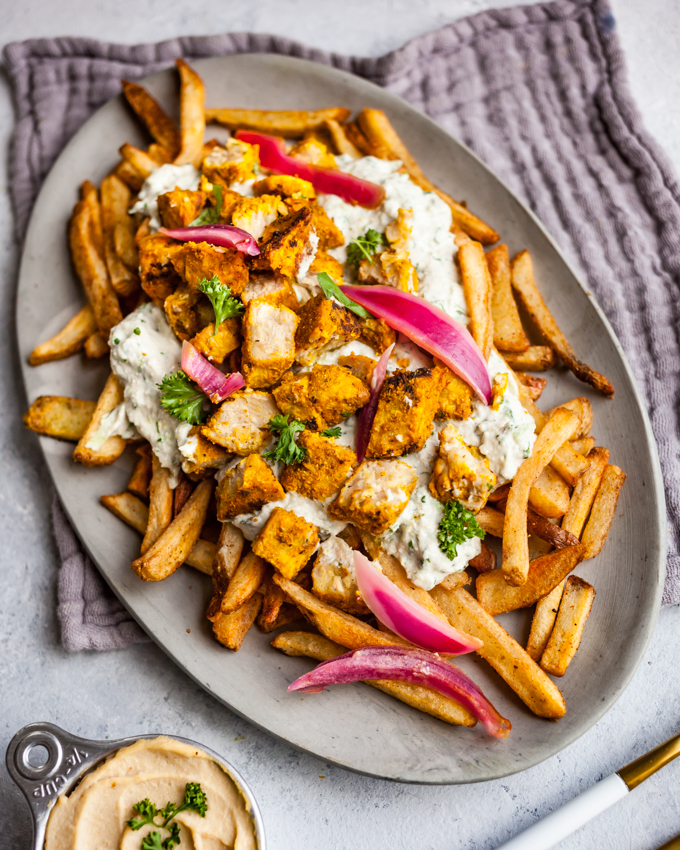 Author:
Carrots and Flowers
Cuisine:
Vegan, Mediterranean-Inspired
1 bag frozen fries, hand cut style
1 batch vegan chicken shawarma
1 cup sunflower tzatiki
2 tbsp pickled onion (optional)
Fry Seasoning
1 tsp cumin
½ tsp smoked paprika
½ tsp coconut sugar
½ tsp salt
¼ tsp garlic powder
Cook the fries according to package instructions, flip half way. Combine the spices into a small bowl. Mix well. Chop the shawarma into ½" pieces.
When the fries have 5 minutes left, gather them into the center of the pan. Sprinkle the spice blend over the fries and toss well. Place the shawarma in an even layer over the fries and bake for the remaining 5 minutes.
Top the fries with dollops of sunflower tzatziki (or use hummus) and pickled onion (or sliced red onion.) These are dangerously tasty!
Recipe by
Carrots and Flowers
at https://www.carrotsandflowers.com/loaded-shawarma-fries/