Vegan Roasted Garlic Pizza with Arugula & Figs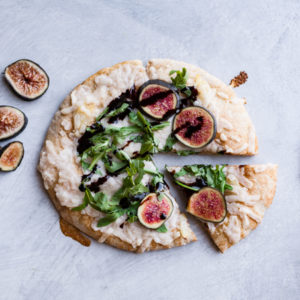 Author:
Carrots and Flowers
Recipe type:
Main Course, Appetizer
1 bulb roasted garlic
4 pitas
½ cup almond ricotta
1 cup vegan mozzarella shreds
¼ cup fresh figs
large handful arugula
balsamic glaze
Preheat the oven to 450 F with a rack in the center. Place the pitas onto two baking sheets.
Smash and spread 2-3 cloves of roasted garlic over each pita. Spread the almond ricotta over the roasted garlic. Divide the cheese among the pitas. Place the baking sheets on the center rack side by side.
Bake the pizzas at 450 F for 7-8 minutes, until the crust begins to brown and the cheese is melty. Meanwhile, slice the figs.
Top the pita pizzas with arugula, sliced figs, and a drizzle of balsamic glaze. Let stand for 1 minute before slicing and serving.
Make ahead- Trim the tip of the garlic bulb so all of the cloves are exposed. Drizzle oil over the garlic cloves. Wrap with foil and roast for 35-45 minutes. Let cool enough to handle then squeeze the cloves from the head. I like to do this the night before with a pan of roasted veggies.
Recipe by
Carrots and Flowers
at https://www.carrotsandflowers.com/vegan-roasted-garlic-pita-pizzas-arugula-figs/