Holiday Stuffed Butternut Squash with Vegan Sausage, Mushrooms, and Almond Ricotta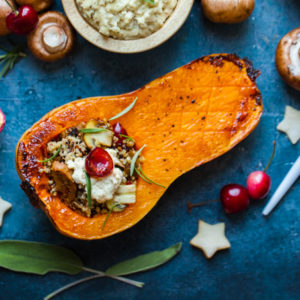 Author:
Carrots and Flowers
Recipe type:
Side Dish, Main Course
1 large butternut squash
1 vegan apple sage sausage link
1 shallot
2-3 cloves garlic
1 cup mushrooms
1 tsp sage leaves, chiffoned (about 2-3 leaves)
½ cup dried quinoa
1 cup vegetable broth
⅓ cup fresh cherries
2 Tbsp grapeseed or olive oil
¼ cup almond ricotta
sea salt and cracked pepper to taste
Preheat the oven to 425F. Split the butternut squash in half and scoop out seeds, and cross hatch the squash with a knife. Spread 1 Tbsp oil on the fleshy part of the squash. Follow with a generous sprinkle of sea salt and pepper. Place the squash halves oiled side down on a baking sheet lined with parchment paper. Bake for 45-55 minutes, until the outside of the squash is easily pierced with a fork.
Add the quinoa and vegetable broth to a rice cooker and cook. Fluff the quinoa with a fork when it's done cooking.
Heat 1 Tbsp oil in a pan on medium heat. Add the shallots and garlic. Cook for 1-2 minutes, stirring often. Add the vegan sausage and mushrooms. Cook for 4-5 minutes until most of the liquid is released. Add the cooked quinoa, cherries, and sage. Stir for 1-2 minutes until the quinoa is hot.
Scoop a generous amount of the quinoa mixture into the squash halves. Top each with 2 Tbsp almond ricotta. Garnish with more herbs and cherries. Enjoy!
Serving size:
½ squash
Calories:
470
Fat:
15g
Carbohydrates:
68g
Fiber:
13g
Protein:
23.4g
Recipe by
Carrots and Flowers
at https://www.carrotsandflowers.com/holiday-quinoa-stuffed-butternut-squash/