Vegan Red Velvet Cheesecake (No-Bake)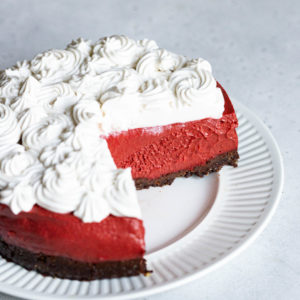 Author:
Carrots and Flowers
Cuisine:
Vegan, Gluten-free
Crust
2 cups pitted dates
2 cups walnuts
2-3 tbsp cocoa powder
Filling
1½ cups soaked cashews
⅓ can Nature's Charm coconut whipping cream
1 can sweetened condensed coconut milk
¼ cup cocoa powder
juice of 1 large lemon
1 tbsp natural red food dye
8 oz vegan cream cheese
Topping
⅓ can coconut whipping cream (chilled)
16 oz vegan cream cheese
Process the walnuts, dates, and cocoa powder in a food processor for 2 minutes. Line a 6" spring form pan with parchment paper. Spray with cooking oil. Press the walnut/date mixture into an even layer at the bottom of the pan to form the crust.
Add the cashews, sweetened condensed coconut milk, cocoa powder, lemon juice, food dye, cream cheese, and ⅓ can coconut whipping cream to a high speed blender. Blend on high until smooth and creamy, about 3 minutes.
Pour the mixture into the pan. Cover and freeze for 6 hours. Chill the remaining coconut whipping cream.
In a medium bowl, beat together the coconut whipping cream and cream cheese. Add the powdered sugar and whip until smooth. Transfer to a piping bag and cover the top with dollops of the cream cheese whipped cream. Place the cake bake in the freezer for 30-60 minutes to firm.
If you don't have a piping bag, you can pour it over the top of the cake and freeze it again for 2-3 hours. All the cake to thaw at room temperature for 10-20 minutes before serving.
Recipe by
Carrots and Flowers
at https://www.carrotsandflowers.com/vegan-red-velvet-cheesecake-no-bake/