Curry Tofu Ramen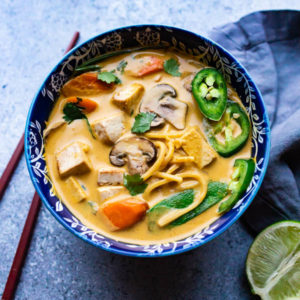 Author:
Carrots and Flowers
Cuisine:
Vegan, Thai-Inspired
6 oz Ramen noodles
4 tsp coconut oil, divided
1 cup Snow peas, trimmed
1 cup Mushrooms, sliced
1 small carrot, peeled and diced
10 oz Tofu, pressed and diced into 1" cubes
1 tbsp soy sauce
1 shallot, finely diced
4 cloves Garlic, minced
2 " piece Ginger, minced
2 tbsp peanut butter
1 (15 oz 425 g) can Chef's Choice Coconut milk
2 cups Vegetable broth
1 tbsp maple syrup
½ lime
2 tbsp Cilantro, chopped
½ Jalapeño, thinly sliced
Boil the ramen in salted water according to package instructions, then drain.
Add 2 tsp oil, tofu, carrots, and mushrooms to the pan. Cook and stir for 4-5 minutes, until tofu is lightly browned. Add the snow peas, drizzle the pan with 1 tbsp soy sauce, and cook until the snow peas are softened. Remove the tofu and veggies from heat and set aside.
Put the pan back on heat. Add oil, shallot, garlic, ginger. Cook for 1 minute. Add the curry paste and peanut butter. Cook for another minute. Add the coconut milk, broth, maple syrup and lime juice. Simmer for 10-15 minutes to let the flavors mingle.
Divide the broth between serving bowls. Fill with noodles, tofu and veggies. Garnish with cilantro, jalepeños, and lime.