Vegan Santa Hat Cheesecakes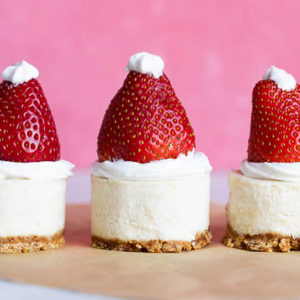 Author:
Carrots and Flowers
Cuisine:
Vegan, Holiday, Kid-Friendly
1¼ cups vegan graham cracker crumbs
3 tbsp coconut sugar
5 tbsp melted vegan butter
1 cup raw cashews, soaked for 6 hours to soften
2 cups plant milk (divided)
6 tbsp corn starch
2 tbsp agar agar flakes (optional for firmer cheesecakes)
1 cup Nature's Charm coconut whipping cream (room temp)
8 oz vegan cream cheese
2 tsp vanilla extract or 1 tsp paste
Juice and zest of ½ lemon
1 tsp apple cider vinegar
3 tbsp melted coconut oil (optional but recommended)
1 can Nature's Charm coconut whipping cream, chilled overnight
12 large round strawberries
Line a square pan with parchment paper and a generous amount vegan butter. In a large bowl mix together the graham cracker crumbs, sugar, and melted vegan butter to a paste. Press into the bottom of an 8" square pan or baking dish in a ½" even layer. Bake for 10 minutes at 350 F.
Blend the cashews and corn starch with 1 cup of soy milk until very smooth. In a sauce pan, bring the remaining soy milk to a roiling boil. Add the agar agar flakes. Whisk quickly and cook for 3 minutes.
Stir in the cashew cream, coconut whipping cream, vegan cream cheese, vanilla, lemon juice and zest, vinegar, and oil. Cook and stir briskly for 3-4 more minutes. Pour into the crust and freeze to set for 6 hours or overnight. (This makes them easier to make into Santa hats.
Whip the chilled coconut cream for 3 minutes. Add the cream to a piping bag or plastic bag with the corner snipped off. Trim the tops from the strawberries.
Remove the cheesecake from the pan. Use a small biscuit cutter to cut out circles. Pipe a layer of whipped cream onto the cheesecakes then add a strawberries. Top with a dot of whipped cream. Keep chilled until ready to serve.
Smash up the leftover cheesecake bits and roll them into balls. Process freeze dried strawberries into a powder. Roll the cheesecake balls into the powder and voila! You've got vegan strawberry cheesecake truffles!

Prep time does not include chill time.
Recipe by
Carrots and Flowers
at https://www.carrotsandflowers.com/vegan-santa-hat-cheesecakes/