Vegan Pumpkin Spice Tres Leches Cake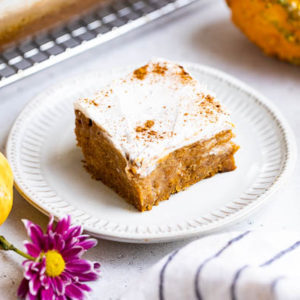 Author:
Carrots and Flowers
Pumpkin Cake
2 cups whole wheat flour
2 tsp baking powder
1 tsp baking soda
1 tsp sea salt
2 tsp pumpkin spice
1½ tsp cinnamon
½ cup apple sauce
¾ cup aquafaba (from 1 can of chickpeas)
½ cup soy, oat, or coconut milk
½ cup apple sauce
½ cup melted coconut oil
1 cup packed brown sugar
½ cup coconut or cane sugar
1 (15 oz) can pumpkin puree
1½ tsp vanilla extract
Milk Soak
¼ cup soy, oat, or coconut milk
2 tsp pumpkin pie spice
1 tsp vanilla extract
1-2 (15 oz) cans Nature's Charm coconut whipping cream, chilled overnight
Preheat the oven to 350 F. Grease a 9x13 glass baking pan. Combine the flour, baking powder, baking soda, salt, pumpkin spice and cinnamon in a large bowl. Whisk thoroughly. Combine the aquafaba, milk, apple sauce, oil, sugar, brown sugar, pumpkin, and vanilla in a second large bowl. Whisk thoroughly.
Mix the wet ingredients into the dry ingredients. Whisk until evenly combined but do not over mix. Pour the batter into the pan and smooth out the top.
Bake for 30-36 minutes, checking at 30 minutes. Cover the edges with foil if they appear to be getting overly browned. The cake is done when a toothpick inserted into the center comes out clean.
While the cake bakes, combine the sweetened condensed coconut milk, evaporated coconut milk, soy milk, and pumpkin pie spice in a medium sauce pot over medium heat. Heat the milks until bubbly then reduce heat to low.
When the cake is done, place it on a wire rack to cool. Poke dozens of holes with a toothpick or skewer. Pour the milk soak evenly over the top of the cake. Cover and chill for 6 hours or overnight.
Pour the coconut whipping cream into a bowl and whip for 3 minutes. Use 1 can for a thin layer of whipped cream. Use 1½ cans to make it extra thick. Slather the whipped cream over the cake in an even layer. Dust with cinnamon.
Slice and serve!
Recipe by
Carrots and Flowers
at https://www.carrotsandflowers.com/vegan-pumpkin-spice-tres-leches-cake/