Mole Mushroom Tacos with Yam Hash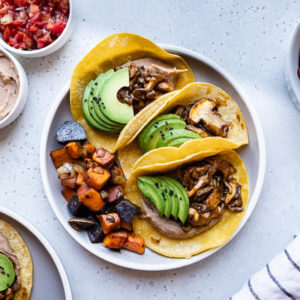 Author:
Carrots and Flowers
1 tbsp oil
3 small yams, diced
2 cups purple potatoes, diced
1 yellow onion , diced
5 cloves garlic, minced
½ tsp cumin
½ tsp chili powder
½ tsp salt
¼ tsp black pepper
2 tsp oil
8 oz (226 g) baby portobella, crimini, or white mushrooms, thinly sliced
3.5 oz (99 g) oyster mushrooms, chopped
dash salt
15 oz (430 g) vegetarian refried beans
12 small corn tortillas
2 ripe avocados
½ cup (120 ml) ready to serve mole sauce
1 lime, sliced
1 tsp brown sugar (optional)
½ cup salsa (optional)
Heat 1 tbsp (15 ml) oil in an extra large pan over medium high heat. Add ⅔ of the onion. Saute for 1 minute, then add ⅔ of the garlic. Cook and stir for 30 seconds then add the yams and potatoes. Season with cumin, chili powder, salt, and pepper. Reduce heat to medium and cook for 7-8 more minutes or until tender, stirring often.
Meanwhile, heat another 1 tsp oil in a large pan over medium high heat.. Add the onions. Cook for 1 minute then add the garlic. Cook for 30 seconds then add the mushrooms, along with another tsp of oil. Let them cook undisturbed for 2 minutes. Stir and scrape the pan, then let them cook undisturbed for another 2-3 minutes. Season with a little pinch of salt and cumin. When the mushrooms are tender and browned, add the mole sauce and stir to coat. Taste and adjust seasoning if desired. Add a little salt to make the flavors pop, brown sugar for sweetness, chili powder for more heat and smokiness, and cumin for flavor. Finish with a squeeze of lime juice.
While the mushrooms are cooking, warm the refried beans and tortillas. Slice the avocados. Build your tacos with a large smear of refried beans. Top with a scoop of mole mushrooms and finish with sliced avocado. Serve the tacos with a side of yam hash and salsa, if desired.
Recipe by
Carrots and Flowers
at https://www.carrotsandflowers.com/vegan-mole-mushroom-tacos/