Vegan Strawberry Custard Pie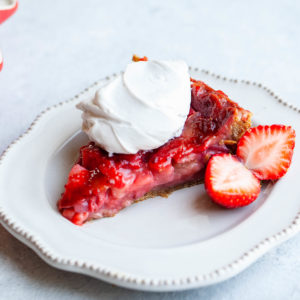 Author:
Carrots and Flowers
Cuisine:
Vegan, Southern Inspired
4 cups fresh strawberries, sliced
1 tsp lemon juice
1 tbsp sugar or coconut sugar
5 tbsp corn starch
⅓ cup maple syrup
1 tsp vanilla extract
frozen vegan pie crust
2 tbsp strawberry jelly
1 can Nature's Charm coconut whipped cream (chilled overnight)
Preheat the oven to 350 F (180 C). Toss the strawberries with lemon juice and sugar. Thoroughly mix the corn starch into the syrup. Add the slurry to the custard, along with the vanilla. Mix well. Add the strawberries to the custard and mix until combined.
Pour the custard into the pie crust. Bake for 50-60 minutes until the pie is set.
Combine the jelly and 2 tbsp warm water. Mix well. Pour over the pie once it's done baking, then chill in the fridge to set for 4-6 hours or overnight.
Use a hand mixer to whip the coconut whipped cream. Cover and place in the fridge until ready to serve.
Slice and serve the pie once set. Serve with a large dollop of coconut whipped cream on top.
Recipe by
Carrots and Flowers
at https://www.carrotsandflowers.com/vegan-strawberry-custard-pie/