Vegan Red Curry Dumpling Soup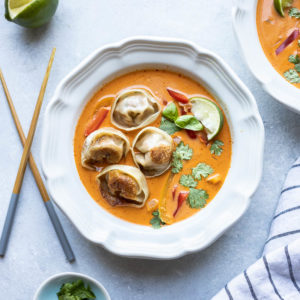 Author:
Carrots and Flowers
Recipe type:
Main Course, Appetizer
Cuisine:
Vegan, Thai-Inspired
Filling
2 green onions
4 cloves garlic
4 tsp minced ginger, divided
4 tsp soy sauce
8oz vegan ground beef
3 tbsp minced fresh basil
Egg-free dumpling or wonton wrappers
Red Curry Broth
⅓ white onion, finely diced
2 bell peppers
2 tbsp oil, divided
2 cups vegetable broth
2 tsp maple syrup
juice of 1 lime
2 tbsp cilantro leaves
Very finely mince the green onion, basil, and garlic. Add the basil, green onion, garlic, and ginger to a large mixing bowl, along with the vegan ground beef, soy sauce, and curry paste. Mix well.
Place a small bowl of water on a clean, dry cutting board. With your finger or a pastry brush, moisten the edges of a wonton. Place 2 full tbsp of vegan beef mixture in the middle. If using square wrappers, bring 2 opposite corners together, then the other two corners to the middle to meet. Seal the edges ensuring no air pockets remain. If using round wrappers, fold them in half and seal the edges while removing air. Carefully bring the two corners together, gently forming the dumpling into a circle. Set aside.
Dice the white onion. Thinly slice the red peppers. Heat 1 tbsp oil in a pan over medium high heat. Add the curry paste. Sauté for 1 minute, stirring occasionally, then add the onion. Cook for 2 minutes, then add the peppers. Stir and cook for 1 minute.
Add the coconut milk and maple syrup. This makes a very thick, sauce-like broth for dipping the dumplings. If you want a thinner, soup-like consistency, add the optional veggie broth. Cover and reduce heat to low.
Heat 1 tbsp oil in a large, heavy skillet set over medium-high heat. Place the dumplings close together in the pan and cook for 1-2 minutes undisturbed, so they develop a deep golden crust on the bottom.
Pour about ¼ cup water into the pan and cover. Reduce heat to medium to steam. Uncover and cook until the dumplings are crisp.
Divide the red curry coconut soup between shallow serving bowls. Place the dumplings on top. Garnish with cilantro and a squeeze of lime juice.
Recipe by
Carrots and Flowers
at https://www.carrotsandflowers.com/vegan-red-curry-dumpling-soup/