The Best Vegan Key Lime Pie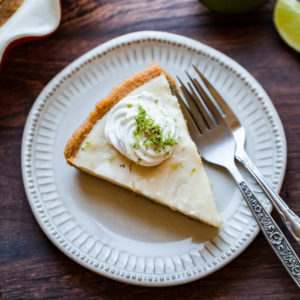 Author:
Carrots and Flowers
Recipe type:
Dessert, Pie
Crust
9 full size honey-free graham crackers
½ cup (63 g) roasted, salted macadamia nuts
½ cup (120 ml) melted vegan butter
2 tbsp brown sugar
Filling
1 14 oz (425 g) can Chef'd Choice full-fat coconut milk
½ cup (120 ml) key lime juice
2 tbsp (12 g) lime zest, plus more to garnish
1 tbsp (15 ml) lemon juice
5 tbsp (37 g) corn starch
1 can Nature's Charm coconut whipped cream
Preheat oven to 350 F. Process the graham crackers and sugar to a fine crumb. Add the nuts. Pulse several times until the nut pieces have achieved a coarse crumb texture. Add the melted butter and pulse until just incorporated, stopping to scrape down the sides if needed.
Transfer the mixture to a lightly greased 9" pie pan. Use your hands to shape the mixture into a crust. I like to use the bottom of a measuring cup to get it really even and tightly packed. Shape the sides with your fingers, being sure to compact the crumbs together tightly so the crust holds its shape. Bake for 10 minutes, until golden brown. Remove from oven and cool completely.
Put a sauce pan on medium heat. Add the coconut milk, condensed milk, lime juice, lemon juice and zest. Whisk thoroughly to combine. Add the corn starch and briskly whisk until even. Bring the mixture a boil, then reduce heat slightly to a strong simmer for 5 minutes. Stir often to prevent lumps.
Pour the filling into the crust. Place in the fridge to cool and set for 6 hours or overnight. Just before serving, whip the coconut cream with a hand mixer. Top the pie with whipped cream. Garnish with zest.
Use regular lime juice in place of key lime juice if needed. If you don't have macadamia nuts, use 3½ extra graham crackers. The pie crust before baking should have the consistency of wet sand. If it feels too wet, add more graham cracker crumbs.
Recipe by
Carrots and Flowers
at https://www.carrotsandflowers.com/the-best-vegan-key-lime-pie/