Air Fried Vegan BBQ Cauliflower Wings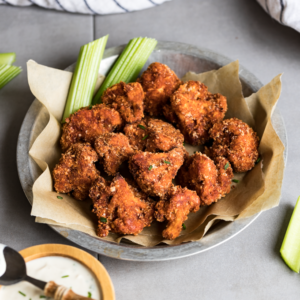 Author:
Carrots and Flowers
Recipe type:
Main Course, Appetizer
1 large head cauliflower
3 tbsp tapioca flour
1 cup breadcrumbs
1 cup panko breadcrumbs
1 tsp garlic powder
½ tsp sea salt
½ tsp smoked paprika
⅛ tsp cayenne (optional)
⅔ cup thick bbq sauce
½ cup melted vegan butter
Cashew Ranch
1 cup raw cashews, soaked for 6 hours or overnight
1 cup water
2 tbsp lemon juice
1 tsp onion powder
¾ tsp sea salt
½ tsp white pepper
½ tsp garlic powder
⅓ cup minced chives
Trim the cauliflower into 2" wing sized pieces. Rinse, pat dry, and toss with tapioca flour. Combine the bbq sauce and melted vegan butter in a shallow bowl. In a second bowl, combine the breadcrumbs, panko, garlic powder, sea salt, smoked paprika, and cayenne. Mix well.
Dip each floret in the bbq butter. Tap the excess away then coat with bread crumbs. Arrange in a single layer on the tray, at least 1-2" between the pieces to ensure they get crispy. You will need to cook in 2-3 batches if you only have 1 tray. Air fry for 7 minutes at 375 F. Carefully flip then air fry for another 5 minutes.
Meanwhile, combine the cashews, water, lemon juice, onion powder, sea salt, white pepper, garlic powder in a high speed blender. Blend until smooth and creamy. Transfer to a container with a lid. Stir in the chives. Cover and chill until ready to serve.
Serve the wings with cashew ranch, carrots and celery.
Recipe by
Carrots and Flowers
at https://www.carrotsandflowers.com/air-fried-vegan-bbq-cauliflower-wings/