Southern Style Black Eyed Peas with Crispy Jackfruit Confit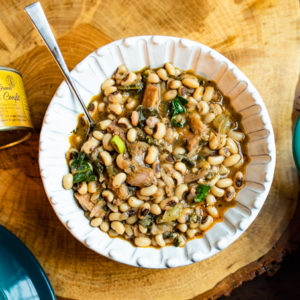 Author:
Carrots and Flowers
1 pound (453 grams) dried black eyed peas
1 large onion
2 stalks celery
3-4 cloves garlic
1 jalapeño
1 tbsp fresh thyme
2 bay leaves
2-3 teaspoons creole seasoning
1 tsp sea salt
½ tsp smoked paprika
⅛ tsp cayenne (or more to taste)
6-7 cups vegetarian chicken or vegetable broth
2 cups chopped kale
pepper to taste
3 stalks green onion
Rinse dry black-eyed pea beans and pick through and discard any foreign object. Add beans to a large pot covering with 3-4 inches of cold water. Cover and let sit for about 2-3 hours (or overnight).
Dice the onion and celery. Mince the garlic. Deseed and mince the jalapeño. Mince the thyme.
Put a large, heavy sauté pan over medium high heat. When the pan is hot, pour the contents of the confit cans (jackfruit and oil) into the pan. Break the jackfruit apart with a spatula. Fry until browned and crispy, about 10 minutes, scraping the bottom often and turning. Remove the jackfruit with a slotted spoon. Set aside. Drain ⅔ of the oil.
Add the onions, celery, garlic, jalapeño, thyme and bay leaf to the pan and sauté for about 3-5 minutes, until onions are wilted and aromatic. Add the broth.
Drain the soaked beans, rinse, and add them to the pot. Season with creole seasoning, paprika, salt, and cayenne. Mix and bring to a boil.
Reduce heat to a simmer and cook, uncovered, for about 30 minutes.
Add the jackfruit and kale to the beans, keep cooking for another 15 minutes or more, stirring occasionally, or until beans are tender and slightly thickened to your desire. Meanwhile, chop the green onion.
Add a little more stock as needed if the beans become too dry or thick. The texture of the beans creamy, but not watery.
Remove the bay leaves before serving. Taste and adjust for seasonings with black pepper, cayenne pepper, creole seasoning, paprika, and salt if desired. Ladle into serving bowls or over cooked rice. Garnish with green onion.
Recipe by
Carrots and Flowers
at https://www.carrotsandflowers.com/black-eyed-peas/