Vegan Peppermint Matcha Chocolate Pie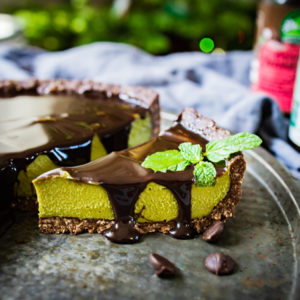 Author:
Carrots and Flowers
Cuisine:
Vegan, Gluten-free, Holiday
Hemp Cookie Crust
1 cup hemp seeds
1 cup rolled oats
1 cup chocolate chips
pinch salt
3-4 tbsp maple syrup
Peppermint Matcha Filling
3 cups soaked cashews
14oz (400g) jar Nature's Charm coconut matcha sauce
½ cup frozen spinach
¼ cup melted coconut oil
2 tsp peppermint extract
1 cup Nature's Charm coconut fudge sauce
Add the hemp seeds, oats, chocolate chips, and salt to a food processor. Process to a fine consistency. Stream in the maple syrup and process until a dough forms. You may need 1-2 more tbsp maple syrup.
Line an 8" springform pan with parchment paper. Press the dough into a crust on the bottom and sides of the pan.
Add the cashews, spinach, matcha sauce, coconut oil, and peppermint to a high speed blender. Blend on high until smooth and creamy. Use the tamper continuously to blend evenly. Stop the scrape down the sides as needed.
Pour the peppermint matcha filling into the crust. Freeze for 30 minutes. Spread the fudge sauce in a thin even layer across the top of the pie. Freeze for 4 hours or overnight then slice and serve.
If you're in the US and can't find the matcha sauce, use 2 tsp matcha powder and 14oz (400 g) sweetened condensed coconut milk instead.
Recipe by
Carrots and Flowers
at https://www.carrotsandflowers.com/vegan-peppermint-matcha-chocolate-pie/