Raw Vegan Chocolate Shake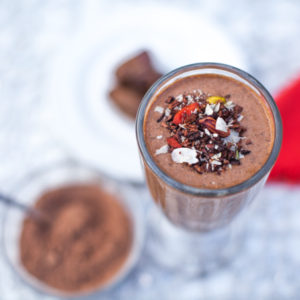 Author:
Carrots and Flowers
Recipe type:
Dessert, Breakfast
Cuisine:
Vegan, Raw, Gluten-free
½ large banana (frozen)
2 Tbsp raw cacao powder
2 Tbsp chia seeds
1 tsp hemp seeds
3 Medjool dates, pits removed
1 cup raw cashew milk
2-3 ice cubes
Raw Vegan Fudge Sauce (not pictured)
1 cup Meijool dates, pits removed
¼ cup raw cacao
2 cups warm water
pinch sea salt
Blend all ingredients and enjoy!! Make sure to blend the smoothie for at least two minutes so the chia seeds can thicken it up.
To make your own raw cashew milk without too much trouble, combine 1 cup filtered water with 1 tbs soaked cashews and blend for 1-2 minutes. No need to strain, just add the other ingredients and keep blending.
To make the raw vegan hot fudge, blend all ingredients on high until smooth. Add water to thin it out. Add more dates if it's too thick.
Recipe by
Carrots and Flowers
at https://www.carrotsandflowers.com/raw-vegan-chocolate-shake/