Baked Vegan Eggnog Cheesecake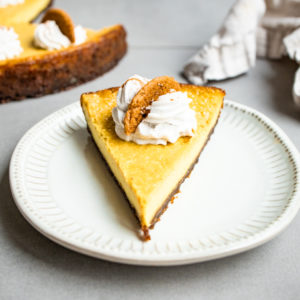 Author:
Carrots and Flowers
Crust
1 14 oz (400g) box gingersnap cookies
3 tbsp brown sugar
1 tsp sea salt
4 tbsp melted vegan butter or coconut oil
2 tbsp maple syrup
Filling
1½ cups soaked cashews
1 cup coconut cream
1 cup thick coconut yogurt
¼ cup bourbon
3 tbsp tapioca starch
2 tbsp maple syrup
1 tbsp lemon juice
1½ tsp nutmeg
1 tsp vanilla extract
½ tsp sea salt
¼ tsp turmeric (optional for color)
Reserve 5 cookies. Whizz the rest in a blender with the salt and coconut sugar until you achieve a fine crumb. Stream in the melted vegan butter and maple syrup and blend until dough forms. Scrape down the sides and use the tamper to evenly blend the dough.
Line an 8" springform pan with parchment paper. Press the dough to form a crust. Bake at 350 F for 10 minutes.
Reduce heat to 325 F. Blend filling ingredients until very smooth, about 3-5 minutes. Scrape down sides and use the tamper to thoroughly blend everything.
Pour the filling into the crust. Tap the pan several times on the counter to release air bubbles. Bake for 45-50 minutes, until the cheesecake looks mostly set with a somewhat jiggly center.
When the cheesecake is nearly set but still jiggly, turn off the oven and crack the door. Leave the cheesecake to slowly cool in the oven for an hour to prevent cracking. Chill in the fridge for an hour.
Just before serving, whip the coconut whipped cream until smooth and fluffy. Cut the remaining cookies in half. Top with the cooled cheesecake with coconut whipped cream, gingersnaps, and a sprinkle of cinnamon. Slice and serve!
Recipe by
Carrots and Flowers
at https://www.carrotsandflowers.com/vegan-eggnog-cheesecake/