Vegan Tom Yum Mac & Cheese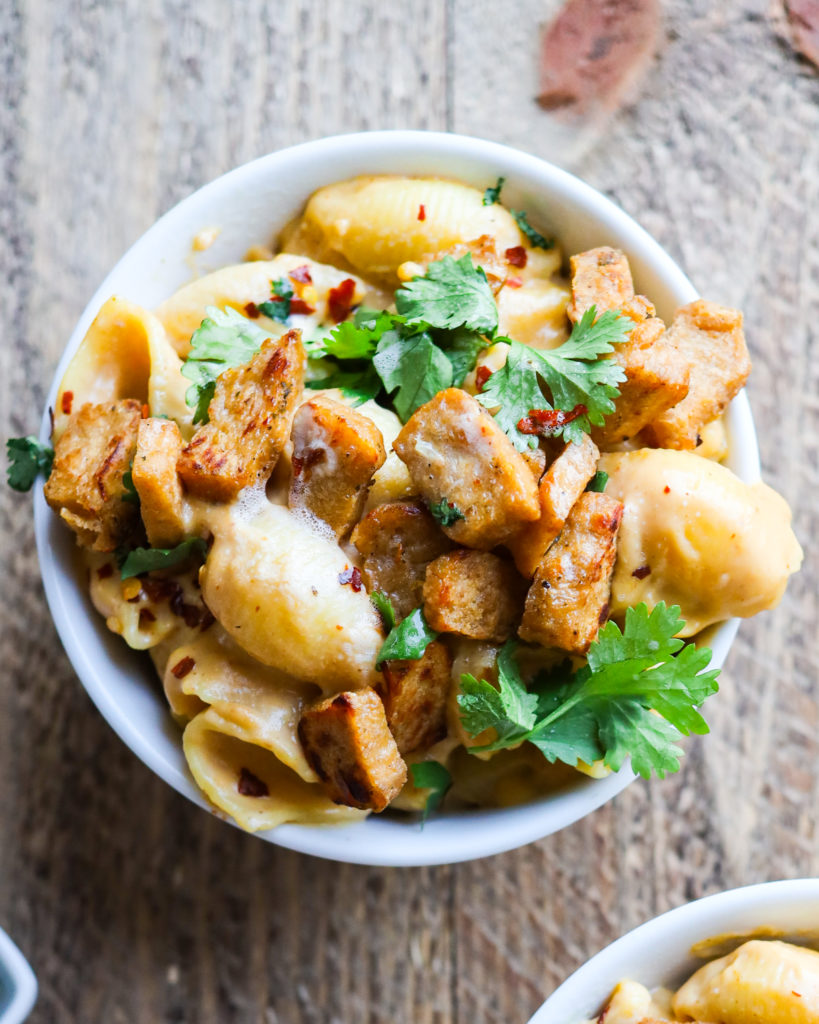 Author:
Carrots and Flowers
Cuisine:
Vegan, Thai Inspired
3 cups fusilli or shell pasta
14 oz can coconut milk
3 tbsp tom yum paste
3 tbsp tapioca flour
3 tbsp nutritional yeast
2 cloves garlic
¼ tsp coconut sugar or agave nectar
¼ tsp sea salt
For serving
handful cilantro, chopped
8 oz crispy vegan chicken
red pepper flakes
1 lime for garnish
Cook the pasta according to package instructions. Add the coconut milk, tom yum paste, nutritional yeast, garlic, sugar and salt to a blender. Blend on high for one minute. Meanwhile, preheat a sauce pan over medium high heat.
Transfer the contents of the blender to the hot pan. Begin stirring right away, scraping the bottom and sides of the pan. Stir quickly and constantly until the lumps are gone and the cheese is very stretchy. Add the cooked pasta and mix well.
Divide the tom yum mac & cheese between serving bowls. Garnish each bowl with cilantro, crispy vegan chicken, red pepper flakes, and a squeeze of lime juice.
Tom yum paste can be found online or at your local Asian market. It's a truly delicious and easy way to make this mac & cheese, and tasty soups!
Recipe by
Carrots and Flowers
at https://www.carrotsandflowers.com/vegan-tom-yum-mac-cheese/