Vegan Smurf Ice Cream Sandwiches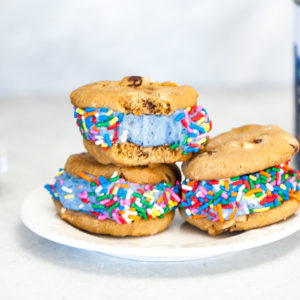 Author:
Carrots and Flowers
Add the cream, condensed milk, blueberries, cashews, lemon juice, orange blossom water, and spirulina to a high speed blender. Blend on high for 2 minutes. Line the bottom of a 9x9 baking dish with parchment paper. Pour the blue mixture into the baking dish. Stir in the marshmallows. Freeze for 6 hours.
Let the smurf ice cream soften for 10 minutes out of the freezer. Use a thin knife along the edge of the ice cream, then carefully use a flexible spatula to transfer the entire frozen square onto wax paper. Cut eight circles from the ice cream using a biscuit cutter the same size as your cookies. Place the ice cream rounds onto cookies, then top with cookies to form the sandwich. Cover the sides of the cookies with sprinkles then place back in the freezer for 20 minutes to firm up before serving. If serving from fully frozen, wait 5 minutes to soften before eating. Enjoy!
Chill the coconut whipping cream overnight for best results.
The marshmallows tend to float to the top. After freezing for 2 hours, stir the marshmallows into the ice cream if you want them to be more evenly dispersed.
Prep time does not include freeze time.
Recipe by
Carrots and Flowers
at https://www.carrotsandflowers.com/vegan-smurf-ice-cream-sandwiches/