Vegan 'Chicken' Shawarma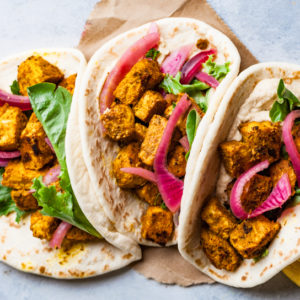 Author:
Carrots and Flowers
Cuisine:
Vegan, Mediterranean
12 oz plant-based 'chicken'
¼ cup lemon juice
¼ cup water
Shawarma Spice Blend
2 tsp turmeric
2 tsp cumin
1 tsp paprika
1 tsp garlic powder
1 tsp coconut sugar (or cane sugar)
½ tsp harissa powder (or cayenne)
½ tsp cinnamon
4 flatbreads
1 cup hummus or vegan tzatziki
large handful lettuce
½ cup sliced red onion or pickled onion
Combine the spices in a medium tupperware container with a lid. Add the lemon juice and water then mix well. Cut the vegan chicken into 1" (2.5 cm) cubes. Add to the marinade, put the lid on the container, and shake well. Set aside for five minutes.
Prep your toppings. Clean and cut the lettuce, slice the onions (or use pickled onions!). Warm the flatbreads. Preheat a pan over medium high heat.
Add the oil to the pan. When it's nice and hot, add the chicken. Cook until browned on all sides, about 4-5 minutes, stirring every 30 seconds or so.
Build your wraps in a warm flatbread with a generous dollop of hummus or vegan tzatziki, a scoop of vegan chicken shawarma, and a handful of lettuce.