Authentic Vegan Tzatziki (Cashew-free)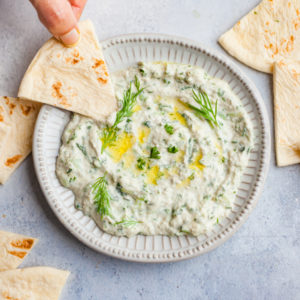 Author:
Carrots and Flowers
1½ cups soaked sunflower seeds
⅓ cup tahini
⅓ cup lemon juice (plus more to taste)
⅓-1/2 cup water
3 large cloves garlic
¼ tsp sea salt
4 Persian cucumbers
3 tbsp minced fresh parsley
3 tbsp minced fresh mint
3 tbsp minced fresh dill
drizzle olive oil (optional)
Add the soaked seeds, tahini, lemon juice, garlic, water salt to a high-powered blender. Blend on high for two minutes, until smooth and creamy.
Meanwhile, mince the herbs and grate the cucumbers. Add them to a mixing bowl. Transfer the blended mixture to the bowl. Stir to combine. If it seems too thick, add water 1 tbsp at a time until you reach your desired consistency. Taste, then add more lemon or herbs if desired.
Serve with toasted pita squares or Portobello gyros!
Store in a covered container in the fridge for up to three days.
Recipe by
Carrots and Flowers
at https://www.carrotsandflowers.com/authentic-vegan-tzatziki-cashew-free/