Vegan Caprese + Cauliflower Panini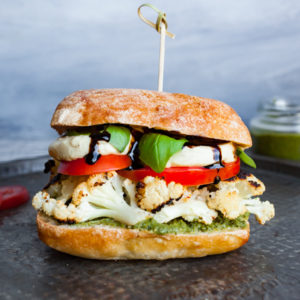 Author:
Carrots and Flowers
Recipe type:
Main Course, Lunch
Vegan Caprese
½ cup soaked cashews
¼ cup tapioca flour
2 tbsp nutritional yeast
1 tsp lemon juice or apple cider vinegar
¾ tsp salt
½ tsp garlic powder
½ tsp onion powder
½ tsp white pepper
1½ cups water
Roasted Cauliflower
1 head cauliflower
2 tsp olive oil
pinch garlic powder
pinch salt
pinch red pepper flakes
6 ciabatta rolls or gf bread
1 cup vegan pesto
2 beefsteak tomatoes
10-12 basil leave basil leaves
balsamic glaze
Preheat the oven to 400 F. Add the cashews, tapioca, yeast, lemon juice, salt, pepper, garlic powder, onion powder, and water to a high-speed blender. Blend on high until smooth, about two minutes. Meanwhile, heat a sauce pan over medium high heat. Pour the contents of the blender into the hot pan. Begin stirring right away, scraping the sides and bottom of the pan. Keep stirring until the cheese forms a thick gooey mass in the center of the pan.
Transfer the cheese to a shallow rimmed plate or dish lined with parchment paper. Chill until set. I like to speed things up by placing the cheese in the freezer for 20-30 minutes but you can also refrigerate it for 1-2 hours or make it ahead the day before.
While the cheese cools, trim the cauliflower into florets. Place the florets on a lined baking sheet, then drizzle with oil oil, salt, garlic powder, and red pepper flakes. Roast the cauliflower for 20-25 minutes until crisp and tender.
When the cheese is very thick and cooled, use a biscuit cutter to cut out circles.
Split and lightly toast the ciabatta. Thinly slice the tomatoes. Spread the pesto on the rolls, then add a layer of roasted cauliflower. Layer a few basil leaves, then carefully transfer the caprese circles to the sandwiches. Top with sliced tomato, a few basil leaves, and a drizzle of balsamic glaze then dig in!
Soak the cashews in water for four hours or overnight to soften. You can also boil for 10-15 minutes if you're in a hurry. I like to keep pre-soaked cashews in my freezer for easy use!
Recipe by
Carrots and Flowers
at https://www.carrotsandflowers.com/vegan-caprese-cauliflower-panini/