Vegan Pesto Stuffed Shells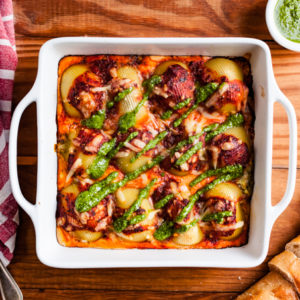 Author:
Carrots and Flowers
10 oz large pasta shells
2 cups marinara
½ cup vegan mozzarella
Cheezy Cashew Sauce
2 cups soaked cashews
1½ cups water
¼ cup nutritional yeast
2 tbsp lemon juice
1 tsp salt
Pesto Ricotta
16 oz firm tofu
2 cups vegan pesto
Preheat the oven to 375 F. Boil the shells according to package instructions then drain and rinse with cold water.
While the pasta cooks, make the cheezy cashew sauce. blend the cashews, garlic, lemon juice, salt and water until smooth and creamy, about 2 minutes.
Drain the tofu and crumble it into a bowl. Add 1¾ cups pesto, reserving the rest to top the dish.
Lightly oil a 9x13 baking pan or use 2 8x8 baking pans. Spread the cashew sauce over the bottom of the pan.
Use a small spoon to stuff the shells. Be sure to fill them completely so there's no air left inside, or the top of the shells will become crunchy in the oven.
Line the shells in the baking pan. Pour the marinara over the shells, spreading the sauce to fully cover them, then top with cheese if using. Bake for 40 minutes until the sauce is bubbly.
Drizzle the finished dish with pesto, then dig in and enjoy!
Recipe by
Carrots and Flowers
at https://www.carrotsandflowers.com/vegan-pesto-stuffed-shells/