Vegan Sausage Biscuits with Maple Chipotle Aioli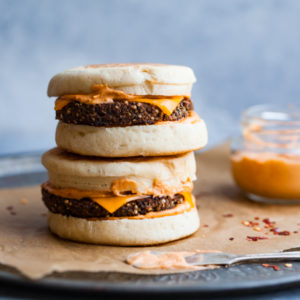 Author:
Carrots and Flowers
Cuisine:
Vegan, Gluten-free, Healthy
Serves:
8 sandwiches + leftover vegan sausage
2 tsp psyllium husk powder
⅓ cup water
1½ cups cooked brown lentils, divided
1½ cups cooked quinoa, divided
¼ cup hemp seeds
¼ cup coconut oil
2 tbsp ground sage
2 sticky Medjool dates
1 tbsp maple syrup
1 tbsp dried thyme
2 tsp fennel seed
1 tsp salt
¼ tsp red pepper flakes
Maple Chipotle Aioli
1 cup soaked cashews
1 chipotle pepper in adobo sauce
1 tbsp maple syrup
⅓ cup water
½ tsp salt
½ tsp lemon juice
8 english muffins
8 slices plant-based cheddar
In a medium bowl, mix together the psyllium and water. Set aside to thicken.
Add ½ cup quinoa, ½ cup lentils, hemp, oil, sage, dates, thyme, fennel, salt, syrup, and pepper flakes to a food processor. Process to a smooth paste, about 2 minutes. Stop to scrape down the sides.
Add the mixture to the bowl, followed by the remaining 1 cup quinoa and 1 cup lentils. Mix well until thoroughly combined. If the mixture feels too sticky, add 1-2 tbsp of chickpea flour. If it's dry and crumbly, add 1 tbsp of coconut oil or maple syrup. Chill the mixture for 30 minutes.
Preheat the oven to 400 F. Make the chipotle aioli. Add the cashews, chipotle, syrup, water, salt, and lemon juice to a high-speed blender. Blend on high until smooth and creamy, about 3 minutes.
Line a baking sheet with parchment paper. Press ⅓ cup of the chilled lentil mixture to a large biscuit cutter the size of an english muffin. Bake the vegan sausage patties for 20 minutes, then flip and bake for an additional 15 minutes. Layer the vegan cheese over the patties for the last five minutes.
Split and toast the english muffins. Spread 2 tbsp maple chipotle aioli on the inside of each muffin. Build the sandwiches with a crisp vegan sausage patty and enjoy!
To save time, prep the vegan sausage mixture the night before. Chill overnight and bake in the morning.
The patties can also be shaped, wrapped, and frozen until ready to use. Add 3-5 minutes to the cook time if baking from frozen.
Recipe by
Carrots and Flowers
at https://www.carrotsandflowers.com/vegan-sausage-biscuits-with-maple-chipotle-aioli/