Vegan Salted Caramel Ice Cream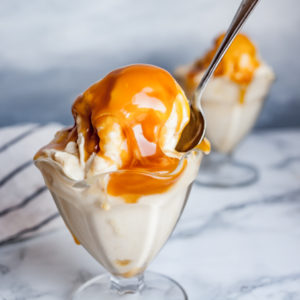 Author:
Carrots and Flowers
2 cups soaked cashews
1 can coconut cream
1 cup plant-based yogurt
Blend all ingredients in a high-powered blender for 2 minutes until smooth.
Pour into a 9 oz loaf pan then cover.
Freeze for 6-8 hours until firm.
After more than 24 hours in the freezer, this ice cream becomes very firm. If it's difficult to scoop, let it sit at room temperature for 10-15 minutes until it softens a bit. You can also heat the ice cream scooper in hot water before scooping.

Soak the cashews for 4 hours or overnight then drain. If you're short on time, boil the cashews for 15 minutes to soften. I like to store soaked cashews in the freezer afterward so I always have them on hand.
Recipe by
Carrots and Flowers
at https://www.carrotsandflowers.com/vegan-salted-caramel-ice-cream/