Pub Style Jackfruit Confit Burger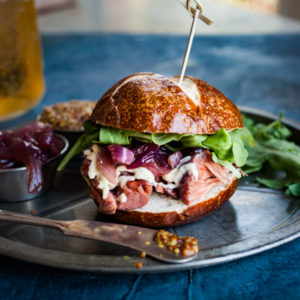 Author:
Carrots and Flowers
Cuisine:
Vegan, Pub Food, Gluten-free
Serves:
2 sandwiches or 4 sliders
2 vegan buns or 4 slider buns (pretzel if you have them)
2 cans Nature's Charm jackfruit confit
½ cup vegan mozzarella shreds
handful arugula
spicy mustard
Quick-Caramelized Onions
1 red onion
2 tsp oil or vegan butter
1 tbsp brown sugar
less than ⅛ tsp baking soda
Heat a pan over medium heat. Slice the onion in half, then cut it into very thin strips.
Melt the vegan butter in the pan then add the onions Sprinkle them with the teensiest pinch of baking soda, no more than ⅛ tsp or the onions will turn mushy. This releases the sugars faster so they caramelize more quickly.
Let the onions cook undisturbed for 2 minutes then add the sugar and stir. Cook the onions for 7-8 more minutes until soft and browned, stirring occasionally.
Meanwhile, heat a second pan on medium high heat. Drain the oil from the jackfruit confit. Add the jackfruit confit to the hot pan. Gently smash it with the back of a spatula. Cook for 2 minutes until browned, then flip. Cover with vegan cheese and place the lid over the pan. Cook for 2 minutes or until cheese is melty.
While the jackfruit and onions are cooking, toast the buns. Spread 1 tsp mustard on each bun. Uncover the pan and divide the cheesy jackfruit between the buns. Top with caramelized onions and arugula.
Store leftover caramelized onions in a closed container in the fridge for up to 3 days. Use in sandwiches, wraps, tofu scramble, grilled cheese, or wherever you want a pop of flavor!
Recipe by
Carrots and Flowers
at https://www.carrotsandflowers.com/pub-style-jackfruit-confit-burger/