Vegan Butterscotch Bourbon Bread Pudding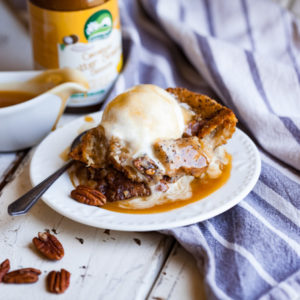 Author:
Carrots and Flowers
½ loaf day old vegan brioche or 1 baguette (about 5-6 cups cubed)
2 15 oz (425 g) cans full-fat coconut milk
1 cup soy or almond milk
¾ cup(150 g) brown sugar
¼ cup + 1 tbsp (60 ml + 15 ml) bourbon, divided
3 tbsp (24 g) cornstarch
1 tbsp (15 ml) vanilla
pinch salt
1½ tbsp (13 g) poppy seeds
1 cup (125 g) pecans
For serving:
vegan vanilla bean ice cream
Slice the bread into 2" (5 cm) chunks. Add ½ the jar of butterscotch sauce with the coconut milk, non-dairy milk, brown sugar, cornstarch, vanilla, and ¼ cup of bourbon to a blender. Blend until smooth and creamy, about 1 minute. Add the poppy seeds and pulse at a low speed to combine.
In a 9x13 glass pan or casserole dish, pour the poppy seed mixture over the bread. Add the pecans and mix with your hands to combine. Press the bread down into the pan. Cover and refrigerate for 4 hours or overnight.
Uncover and bake at 325F (160 C) for 1¼ - 1½ hours, until the top begins to brown and a toothpick inserted into the center comes out clean. While the bread pudding bakes, stir the remaining 1 tbsp (15 ml) bourbon into the rest of the butterscotch sauce in a small saucepan. Heat until warm. Serve the bread pudding topped with ice cream and warmed butterscotch bourbon sauce.
Recipe by
Carrots and Flowers
at https://www.carrotsandflowers.com/vegan-butterscotch-bourbon-bread-pudding/