Vegan Cookies & Cream Ice Cream Bars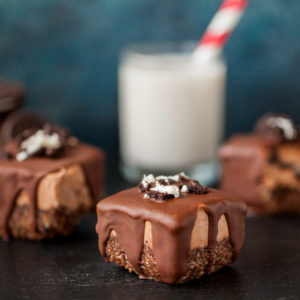 Author:
Carrots and Flowers
Cuisine:
Vegan, Gluten-free
No-Bake Brownie Crust
⅔ cup hemp seeds
¼ cup raw cacao powder or cocoa powder
2 chocolate sandwich cookies
1 Medjool date
1 Tbsp maple syrup
dash sea salt
cooking oil spray
Ice Cream Filling
⅔ cup soaked cashews
⅔ cup coconut cream
¼ cup melted non-dairy chocolate chips
1 tsp vanilla extract
4-5 chocolate sandwich cookies, broken into pieces
Chocolate Coating
½ cup non-dairy chocolate chips
2-3 Tbsp coconut oil
2 chocolate sandwich cookies, chopped fine
Add the hemp seeds, cacao, sandwich cookies, salt, and Medjool date to a food processor. Process until crumbly, then stream in the maple syrup until a sticky dough forms.
Spray a silicon jumbo ice cube tray with cooking oil. Divide the hemp brownie dough into six even balls, then press the dough evenly down into the tray to form the crust. Wipe then moisten your fingers as needed. The dough will be very sticky.
Rinse your food processor (or use a high-powdered blender). Add all the filling ingredients to the processor, except for the sandwich cookies. Process or blend until smooth or creamy. Add the sandwiches cookies and pulse a few times. You want evenly blend the cookies into the ice cream filling, while still leaving some larger pieces for texture. Cover the tray and freeze for 8 hours or overnight.
To remove the frozen treats, submerge the bottom of the silicon tray in a shallow bowl of hot water for 10-20 seconds. Carefully flip the tray upside down and pop out the treats one at a time onto a baking sheet lined with parchment paper and a wire rack on top. Flip the treats so they are crust side down. You want to be ready to coat them once your chocolate melts.
In a double boiler (or sauce pan on very low heat), melt the chocolate chips while stirring often with a whisk to prevent burning. Stir in the coconut oil. You are looking for a smooth, liquid, pourable consistency. Pour the melted chocolate over your frozen treats until they are evenly coated.
For a neater finished product, carefully transfer the chocolate covered bars from the wire rack to a lined baking tray. Garnish with chopped cookie pieces and freeze again for 15 minutes. Ice Cream Bars are the creamiest if allowed to thaw for 5 minutes before serving.
*Prep time reflects active kitchen time, freeze time not included.
If you don't have a silicon jumbo ice tray, you may substitute a small loaf pan lined with parchment paper. Cut the filling into bars before coating in chocolate.
Recipe by
Carrots and Flowers
at https://www.carrotsandflowers.com/vegan-cookies-n-cream-ice-cream-bars/