Roasted Asparagus with Creamy Vegan Hollandaise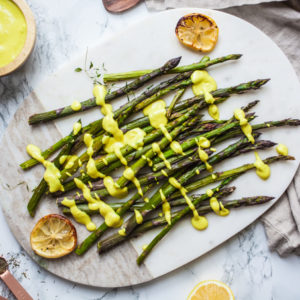 Author:
Carrots and Flowers
Cuisine:
Vegan, Gluten-free, Paleo
1 lb asparagus
2 tsp olive or grapeseed oil
squeeze of lemon
sea salt and pepper
Creamy Vegan Hollandaise
1 cup cashews, soaked overnight or boiled for 15 minutes to soften
2 tsp lemon juice
2 tsp dijon mustard
heaping ¼ tsp salt
¼ tsp white pepper
½ tsp turmeric
¼-1/2 cup water or more
1 Tbsp vegan butter (optional)
Preheat the oven to 400F/205C. Wash and trim the asparagus spears.
Place them in a single even layer across two baking sheets. Drizzle 1 tsp of olive or grapeseed oil over each baking sheet.
Add a squeeze of lemon, a sprinkle of sea salt, and cracked black pepper then toss with your hands to coat. Roast the asparagus for 15-20 minutes at 400F/205C.
In a high powered blender or food processor, combine all ingredients except for the water. Blend until creamy and smooth, adding water as needed until you reach your desired consistency. The vegan butter is completely optional, but adds a nice mouthfeel in the style of traditional hollandaise.
*Sauce will store in a closed container in the fridge for up to 5 days. Reheat in a saucepan on medium low, adding water if needed.
Serving size:
¼ recipe
Calories:
208
Fat:
14.2
Carbohydrates:
13.4g
Fiber:
4.5g
Protein:
7.7g
Recipe by
Carrots and Flowers
at https://www.carrotsandflowers.com/vegan-hollandaise-roasted-asparagus/