Autumn Harvest Buddha Bowls with Maple Miso Glazed Tempeh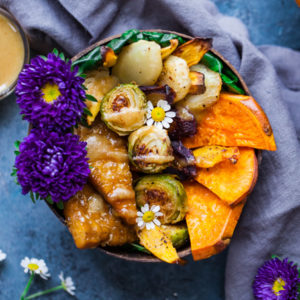 Author:
Carrots and Flowers
Cuisine:
Vegan, Gluten-free
1 large sweet potato, sliced into ½ thick wedges.
½ lb brussel sprouts, trimmed and halved.
5-6 rainbow carrots, peed and sliced
1 Tbsp olive or grapeseed oil
sea salt and pepper to taste
1 10oz package tempeh
¼ cup maple syrup
2 Tbsp miso paste
pinch garlic powder
1 Tbsp tamari
¼ tsp liquid smoke
4 cups kale leaves, torn into bite sized pieces
2 Tbsp tahini
1 Tbsp apple cider vinegar
1 Tbsp dijon mustard
Preheat the oven to 425F (220C). Clean and prepare your vegetables. Place the brussels on one lined baking sheet and the carrots and sweet potatoes on a second lined baking sheet.
Toss with vegetables with ½ Tbsp oil per tray, plus a generous pinch of sea salt and pepper. Be sure the carrot and sweet potato slices lay flat with a bit of space between each piece, so they get nice and crispy. Bake both trays for 30 minutes, flipping halfway through the bake time.
In a small bowl, combine the maple syrup, miso, garlic powder, tamari, and liquid smoke. Slice the tempeh into ½ inch thick triangles. Toss in the sauce, be sure the triangles are well coated. Marinade for ten minutes.
In an oiled pan over medium high heat, sauté the tempeh for 2-3 minutes on each side. Remove the tempeh, set it aside, and lower the heat to medium. Place the kale leaves in the pan with 2 Tbsp of water and cover. Let steam for 30 seconds, then stir. Cover again and cook for another 30 seconds. You want to soften the greens while keeping a nice bright green color.
Add the apple cider vinegar, dijon mustard, and tahini to the leftover marinade to make the dressing. Build your bowls with a base of sautéed kale, then arrange the roasted vegetables and glazed tahini on top. Serve with a healthy drizzle of dressing and enjoy!
Store leftovers in a tightly sealed container in the fridge for up to 5 days.
Serving size:
⅓ recipe
Calories:
453
Fat:
15.8 g
Carbohydrates:
57.6 g
Fiber:
16.7 g
Protein:
22.6 g
Recipe by
Carrots and Flowers
at https://www.carrotsandflowers.com/winter-harvest-buddha-bowls/