Vegan Sausage and Mushroom Stuffing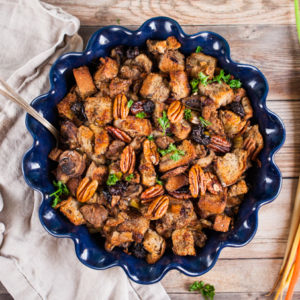 Author:
Carrots and Flowers
Cuisine:
Vegan, Holiday, Thanksgiving
1 loaf vegan bread of choice, cut into 1" cubes
3 cups sliced mushrooms
8 vegan apple sage sausages
4 cloves garlic, minced
1 yellow or white onion, diced fine
1½ cups celery, diced fine
3 Tbsp vegan butter.
½ cup dried cherries, roughly chopped
½ cup parsley, chopped
1 tsp sea salt
1 tsp dried thyme
2 tsp dried sage
1 tsp dried rosemary
½ tsp black pepper
2 cups vegetable stock or vegan chicken stock.
Make ahead- Cube the bread and let sit overnight in a loosely covered bowl. To make the day of, bake the cubes at 250F for one hour while you prepare the rest of the ingredients.
Preheat the oven to 350F. Toast the pecans in a single layer on a baking sheet for 5-7 minutes at 350F. Set aside
Melt the butter in a large pan on medium heat. Add the vegan sausage, onion, and garlic, cook until the onion is translucent, about 2-3 minutes. Stir in the celery, mushrooms, and dried cherries. Cook for another ten minutes or until vegetables are tender, stirring often. Remove from heat then stir in the parsley, salt, and spices (thyme through pepper.)
In a large bowl, combine the vegetable mixture with the cubed bread. Pour the vegetable broth over the bread. Stir until moist.
Spoon the bread mixture into a 13 x 9-inch baking dish coated with vegan butter. Cover and bake at 350° for 15 minutes. Uncover and bake an additional 20 minutes or until top is crusty.
*nutritional information is based on whole grain bread
Serving size:
¾ cup
Calories:
391
Fat:
12.3g
Carbohydrates:
24g
Fiber:
5.6
Protein:
21.6g
Recipe by
Carrots and Flowers
at https://www.carrotsandflowers.com/vegan-stuffing-sausage-mushroom/