Hearty BBQ Glazed Lentil Loaf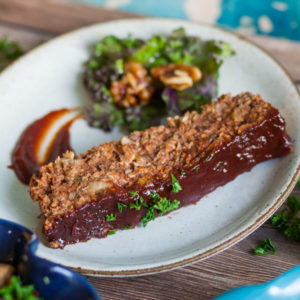 Author:
Carrots and Flowers
Cuisine:
Vegan, Gluten-Free, Holiday
⅓ onion, diced fine
1 cup celery, diced fine
1 cup mushrooms diced
1 cups toasted walnuts
3 cups cooked french lentils
3 cloves garlic
2 Tbsp ground flax + 5 Tbsp water
2 Tbsp vegan worchestershire
2 oz tomato paste (1/2 can)
1 cups oats
1½ tsp salt
¾ tsp pepper
1 tsp thyme
1 tsp oregano
1 Tbsp olive or grapeseed oil
for the glaze
2 oz tomato paste (1/2 can)
½ cup tomato based BBQ sauce
Preheat the oven to 350F. Combine the ground flax and water in a small bowl. Stir well and set aside.
Dice the mushrooms, onions, and celery. To save time, pulse the mushrooms in a food processor, if desired.
Toast the walnuts on a baking sheet for 7 minutes.
Heat the oil in a large pan on medium heat. Add the garlic and onion. Sauté until the onion is translucent, about 1-2 minutes. Add the mushrooms tomato paste and spices. Cook for another 3-4 minutes until the mushrooms release some of their moisture. Add the celery and sauté for 5 more minutes.
Set aside ½ cup lentils. Pulse the remaining 2½ cups of cooked lentils in a food processor until semi-mashed, about 7-8 pulses. Add the walnuts and pulse 4-5 more times.
Transfer the lentil mixture to a large bowl. Add the oats to the food processor. Process until you reach a flour consistency, then add to the lentil mixture.
Stir in the veggies, whole lentils, and flax eggs. Mix well. Taste and add more spices, if desired.
Transfer to an oiled 9x13 pan. Press down with your hands or the back of a spoon. Top with the glaze and bake at 350F for 30 minutes. Let rest for 10-15 minutes before serving.
*Be sure to use GF vegan worchestershire if you are making this gluten-free.
*Replace walnuts with pumpkin seeds if you have a nut allergy.
Serving size:
⅛ loaf
Calories:
285
Fat:
11.5g
Carbohydrates:
37g
Fiber:
9.5g
Protein:
11.6g
Recipe by
Carrots and Flowers
at https://www.carrotsandflowers.com/vegan-meatloaf-gluten-free-bbq-lentil-loaf/