The Best Ever Kale Salad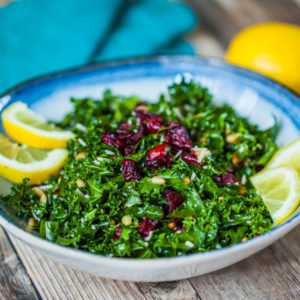 Author:
Carrots and Flowers
Recipe type:
Salad, Side Dish
Cuisine:
Vegan, Gluten-free
2 bunches kale, chopped fine
1 cup toasted pine nuts
1 cup dried cranberries
½-2/3 cup vegan parmesan, chopped
1½ Tbsp lemon juice
1½ Tbsp olive oil
salt to taste
healthy pinch red pepper flakes
Dice the kale SUPER fine, not quite to the consistency of parsley in tabouli but pretty close. It's part of what makes this salad so don't skip this step!
Toast the pine nuts in a skillet over medium low heat. Stir them constantly so they don't burn.
Chop the cranberries fine, as well as the vegan parmesan.
Combine all ingredients in a large bowl and mix well with your hands, massaging the oil and lemon juice into the kale.
Add salt to taste and a pinch of red pepper flakes. Give the salad a good stir and enjoy!
Serving size:
1 cup
Calories:
222
Fat:
13 g
Carbohydrates:
24 g
Fiber:
3.8 g
Protein:
4.4 g