Vegan Chik'n and Waffles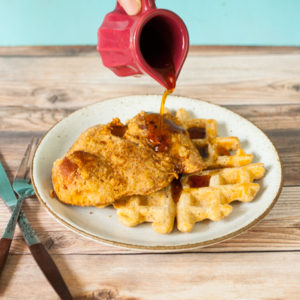 Author:
Carrots and Flowers
Recipe type:
Breakfast, Brunch
1 lb vegan meat alterative
maple syrup
1 cup oil for frying (I used triple filtered coconut oil)
Fried Chik'n Batter
½ cup aquafaba
⅔ cup all-purpose or chickpea flour
¼ cup cornstarch
1 Tbsp brown sugar
½ tsp garlic powder
½ tsp onion powder
½ tsp paprika
½ tsp chili powder
½ tsp sea salt
½ tsp pepper
¼ tsp oregano
¼ tsp dried basil
¼ tsp allspice
Waffles
1½ cups white whole wheat or all-purpose flour
¼ cup cornstarch
1 tsp baking powder
½ tsp salt
6 Tbsp melted vegan butter or coconut oil
3 Tbsp cane sugar
2 Tbsp ground flax
6 Tbsp water
3 tsp vanilla
1½ cups almond milk
1 Tbsp apple cider vinegar
Waffles- Preheat the oven to 200F. Combine the flax seed and water. Stir and set aside for 10 minutes. Combine the apple cider vinegar and almond milk in a small bowl. Stir and set aside for 5-10 minutes.
In a large bowl, whisk together the flour, cornstarch, baking powder, salt, and cane sugar. Add the melted butter or oil to the almond milk, along with the flax mixture and the vanilla. Stir well.
Slowly add the wet to the dry ingredients. Mix until the batter is even but still a bit lumpy. Do not over mix.
On an oiled waffle maker (set medium high to high), pour just under ⅔ cup waffle batter evenly over the machine. Cook each waffle according to machine instructions. Place the waffles on a baking sheet in the oven to keep them warm while you prepare the Vegan Fried Chik'n.
Vegan Fried Chik'n- In a large shallow pan, whisk together the flour, cornstarch, and spices. Divide your vegan meat into 4 equal pieces. Heat the oil in a sauce pan on medium heat. You may use a skillet to cook the chik'n all at once but this will require more oil.
Pour the aquafaba into a shallow bowl. Coat each piece of vegan meat in the aquafaba then the flour/spice mixture. Shake off the excess flour, then add a second coat of aquafaba and flour. Try not to handle the chik'n much when it's coated (use your finger tips) to keep the batter on the vegan meat.
Fry the battered vegan chik'n until golden brown, about 2 minutes on each side. Serve immediately with waffles, vegan butter, and plenty of warm maple syrup.
Serving size:
¼
Calories:
525
Fat:
27g
Carbohydrates:
39g
Fiber:
3.2g
Protein:
24.6g
Cholesterol:
0 mg