Vegan-N-Out Burger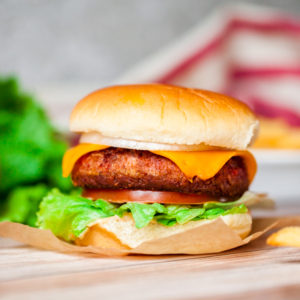 Author:
Carrots and Flowers
2 Beyond Meat vegan patties
Vegan American cheese slices
sliced tomato
leaf lettuce
white onion slices
1 tsp vegan butter
salt and pepper
2 vegan hamburger buns
Vegan In-N-Out Style Secret Sauce
¼ cup vegan mayo
2 Tbsp ketchup
1 Tbsp sweet relish
1 tsp yellow mustard
1 tsp white vinegar
1 tsp sugar
To prepare the secret sauce, whisk all ingredients together in a small bowl. Lightly toast the buns.
Season the thawed patties with salt and pepper. Heat a skillet over medium high heat and melt the vegan butter in the pan.
Cook the patties for 3 minutes on one side then flip. Layer the cheese on the patties and cover the pan so the cheese melts. Cook for 3 more minutes.
Build the vegan burgers with lettuce, tomato, onion, and 1 Tbsp secret sauce. (You will have leftover sauce.)
To make the burgers Double Double style, divide each thawed patty into two parts. Form them into balls then smash them into ¼ inch thick patties. Cook each patty for 2 minutes on each side, melting the cheese on top after flipping. Build the burgers with two patties, and desired toppings.
To make the burgers Animal style, spread a layer of yellow mustard on the patties before cooking them in the pan, then include sliced pickles and grilled onions when building the burgers.
Serving size:
1 burger
Calories:
470
Fat:
28 g
Saturated fat:
3 g
Unsaturated fat:
6 g
Carbohydrates:
30 g
Sugar:
5 g
Sodium:
840 mg
Fiber:
6 g
Protein:
27 g
Cholesterol:
0 mg