Best Ever Vegan Bolognese with Rutabaga Noodles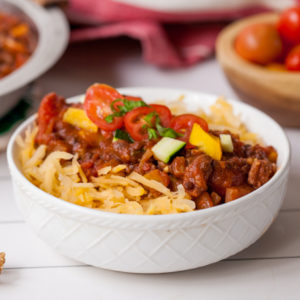 Author:
Carrots and Flowers
Cuisine:
Vegan, Gluten-free, Italian
1 28-ounce can crushed tomatoes
¼ cup + 1 Tbsp extra-virgin olive oil
7 garlic cloves, peeled and slivered
3 Tbsp tomato paste
½ tsp crushed red pepper flakes
1 tsp sea salt
½ tsp dried oregano, plus more to taste
2 Tbsp chopped fresh basil
1½ cups cooked lentils
1 cup chopped mushrooms
1 large shallot, finely chopped
3 cloves garlic minced
½ large zucchini, chopped
1 bell pepper, chopped
1 cup chopped walnuts
8 medium rutabagas
Heat the oil in a large skillet over medium heat. Add the 7 cloves of slivered garlic when it's nice and hot.
As soon as garlic starts sizzling (do not let it brown), add the crushed tomatoes. Stir in the red pepper flakes, salt, and oregano.
Simmer sauce until thickened and oil on surface is a deep orange, about 15 minutes.
Meanwhile, heat 1 Tbsp olive oil in a medium skillet over medium high heat. Add the shallot, 3 cloves minced garlic, and tomato paste cook for 1 minute stirring often. Add the lentils, bell pepper, zucchini and mushrooms. Sauté for another 5-7 minutes until the mushrooms give off most of their liquid. Add the tomato sauce to the lentil mixture and reduce heat to low. Stir in the walnuts and chopped basil and let simmer while you prepare the noodles. Add water ¼ cup at a time to thin the sauce as needed.
Rinse your medium skillet. Using a food processor fitted with the shredder attachment, shred the peeled rutabaga. Heat the skillet over medium heat. Add 2 Tbsp water then transfer the shredded rutabaga to the pan. Cover and let steam for 5-7 minutes, stirring often and adding tablespoons of water as needed.
When the noodles feel mostly soft but still firm (not mushy!) take them off the heat. Divide the noodles into serving bowls and top with large scoops of the vegan bolognese. Top with vegan parmesan or nutritional yeast and enjoy!
*Sauce can be frozen for up to two weeks. Let cool to room temperature before storing in the freezer, then thaw in the fridge before reheating.
*Uncooked rutabaga noodles can be frozen then water sauté them for 2-3 additional minutes.
*Nutrition information is based on 5 servings.
Recipe by
Carrots and Flowers
at https://www.carrotsandflowers.com/vegan-bolognese-rutabaga-noodles/