Broccoli & Leek Frittata (Vegan + GF)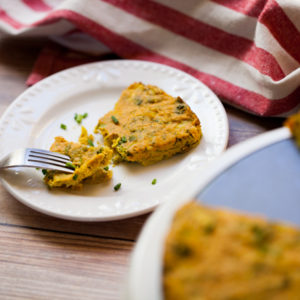 Author:
Carrots and Flowers
Cuisine:
Vegan, Gluten-free
14 oz firm tofu
2 cups broccoli, chopped fine
1 cup leeks, thinly sliced
3 Tbsp nutritional yeast
1½ Tbsp tamari or soy sauce
1 Tbsp grapeseed or olive oil
3 cloves garlic, minced
1 Tbsp cornstarch
½ tsp smoked paprika
½ tsp white pepper
½ tsp turmeric
Slice the white and light green parts of the leeks into very small, thin pieces. Discard the the darker green tops or use them for vegetable stock or compost.
Heat the oil in a skillet on medium high, non-stick works best. Sauté the leeks and broccoli for 2-3 minutes stirring often. Add the garlic and cook for another 3-4 minutes until the veggies turn a bright green and release some of their water. Remove from heat.
Preheat your oven to 375F. Using your hands, squeeze most of the water from the tofu and place it in a food processor bowl with the remaining ingredients. Process for 2-3 minutes until smooth, then remove the blade and stir in the cooked broccoli and leeks. Transfer the mixture to a lightly oiled 9" round pan. Bake at 375F for 20-25 minutes until golden brown on the top and a fork in the center comes out clean. Let sit for 5 minutes before serving.
*This recipe will make a very thin frittata, hence the quick cooking time. To make a thicker frittata, double the recipe and increase the cooking time to 35-40 minutes.
Serving size:
⅓
Calories:
188
Fat:
7.1 g
Saturated fat:
1.2 g
Unsaturated fat:
5.4 g
Carbohydrates:
19.3 g
Sodium:
541. g
Fiber:
4.7 g
Protein:
15.4 g
Recipe by
Carrots and Flowers
at https://www.carrotsandflowers.com/broccoli-leek-vegan-frittata-gluten-free/