Vegan Pumpkin Cream Cheese French Toast Bake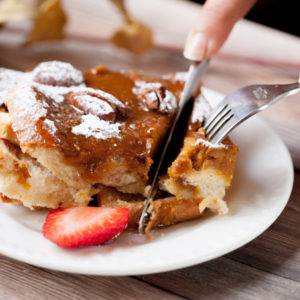 Author:
Carrots and Flowers
Recipe type:
Breakfast, Dessert
1 loaf sourdough bread
8 oz vegan cream cheese
1 cup pureed pumpkin
12 oz can sweetened condensed coconut milk
¼ cup chickpea flour
½ cup plant-based creamer
⅔ cup packed brown sugar
2½ tsp pumpkin pie spice
½ tsp salt
⅔ cup pecans
For serving
strawberries
powdered sugar
maple syrup
Cut each slice of bread into quarters. Arrange half of the bread pieces in a greased 9x13 inch baking pan then spoon quarter sized dollops of vegan cream cheese evenly on top. Arrange the remaining bread slices over the cream cheese, pressing down slightly.
In a medium bowl, whisk together the creamer, condensed coconut milk, chickpea flour, pumpkin, brown sugar, pumpkin pie spice, and salt. Pour over the bread, using a spatula to ensure it's even. Cover with foil and refrigerate for six hours or overnight.
Remove the pan from the refrigerator and preheat the oven to 350F. Bake for 40 minutes, covered. Uncover and sprinkle with pecans, then bake for an additional 25-30 minutes, until golden brown and a knife inserted in the center comes out clean.
Let sit for 5-10 minutes before serving. Serve with whipped coconut cream, strawberries, powdered sugar, and warm maple syrup.
*5 minutes active prep time, then the bake goes in the fridge.
*Use GF Sourdough to make this gluten-free.
*This recipe also tastes amazing with raisin bread.
*Freezes well, reheat in the microwave or oven with maple syrup.
Recipe by
Carrots and Flowers
at https://www.carrotsandflowers.com/vegan-pumpkin-french-toast-bake/