Strawberries & Cream Vegan French Toast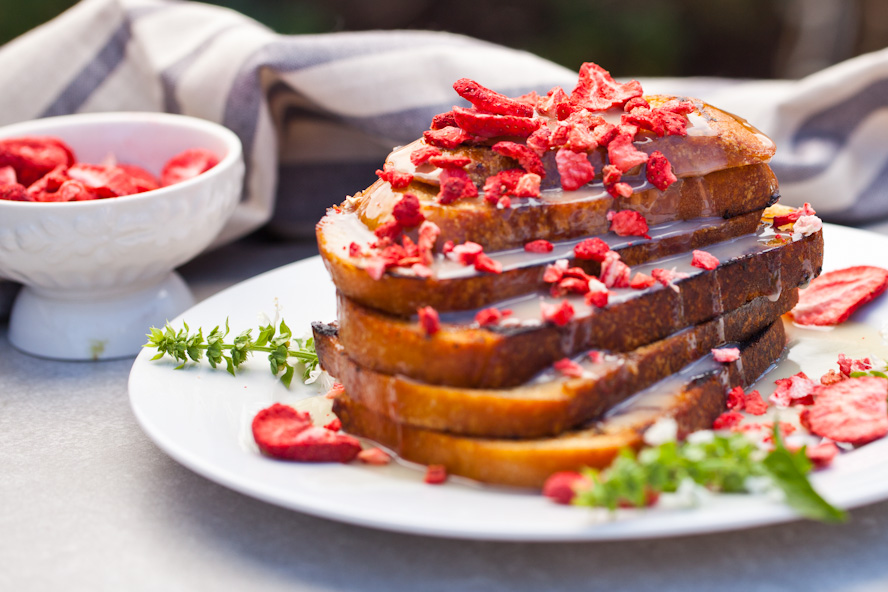 Author:
Carrots and Flowers
Recipe type:
Breakfast, Brunch
8 slices rustic bread, preferably a bit stale
1 can aquafaba or ¾ cup
2 Tbsp chickpea flour
¼ cup non-dairy milk (we used coconut)
2 tablespoons maple syrup
1 teaspoon vanilla
vegan butter or coconut oil for pan
Toppings
1 cup strawberries (freeze dried or fresh)
1 can sweetened condensed coconut milk (or ⅓ cup maple syrup)
In a shallow bowl, combine the aquafaba, coconut milk, maple syrup, and vanilla. Whisk until the mixture becomes frothy. Chop the freeze dried strawberries into small pieces.
Heat a skillet on medium low with a generous spray of cooking oil. Coat the bread slices in the aquafaba mixture on each side, letting the excess drip from the bread before placing it in the skillet.
Cook until golden brown, about 3-4 minutes on each side. To get a nice crust, spray the bread with coconut oil on each side and cook for another minute or so.
Drizzle a generous amount of sweetened condensed coconut milk on the french toast and top it off with freeze dried strawberry sprinkles.
Recipe by
Carrots and Flowers
at https://www.carrotsandflowers.com/strawberries-cream-vegan-french-toast/