The Best Damn Vegan Dumplings with Easy Peanut Sauce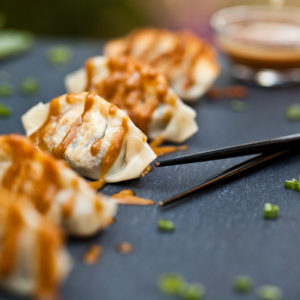 Author:
Carrots and Flowers
1 package Teriyaki style baked tofu
1 small head cauliflower
1 cup green onion, chopped
2 cups bok choy leaves
3 cloves garlic, minced
1½ cups fresh shitake mushrooms
1 tablespoon sesame oil
2 tablespoons soy sauce or tamari
2 teaspoon minced ginger
2 teaspoon miso paste, white or yellow
eggless dumpling wrappers
water for sealing dumplings
Easy Peanut Sauce
4 tablespoons peanut butter
4 tablespoons soy sauce
2 tablespoons rice vinegar
2 tablespoons maple syrup
2 teaspoons minced ginger
Chop the tofu into large cubes and break the cauliflower into pieces, trimming off the large stems. In a large skillet, heat the sesame oil on medium high. Add the cauliflower and sauté for 3 minutes. Stir in the garlic and cook for another minute.
Add the tofu, green onion, shitake mushrooms, miso, and ginger. Stir to combine then add the bok choy. Sauté for another 1-2 minutes then pour the soy sauce over the veggie mixture. Cook for 8-10 minutes until the water from the bok choy and shitake is released and cooked off.
Remove from heat and let cool for 5 minutes. While the veggies are cooling, combine all ingredients for the Easy Peanut Sauce in a bowl and whisk together until smooth.
Transfer the veggie mixture from the skillet into a large food processor bowl. Pulse for 2-3 minutes for 10 seconds at a time until you reach the desired consistency. You want it to be mostly smooth but not a homogenous paste. (so still a tad chunky)
Place an eggless dumpling wrapper on a lightly floured surface. Spoon one heaping teaspoon into the center of the wrapper and carefully moisten the outer rim of the wrapper. Fold the Vegan Dumpling in half and press the edges together to seal them, making sure to remove all air from the center. Pinch the sealed edges in a visually pleasing fashion (or leave them flat) and cook them in a lightly oiled pan over medium heat for about 2 minutes on each side. Watch them as they tend to brown quickly.
Serve with Easy Peanut Sauce and enjoy!
*If you have leftover filling it tastes great over a bed of rice!
Recipe by
Carrots and Flowers
at https://www.carrotsandflowers.com/best-damn-vegan-dumplings-recipe/