Easy Vegan Green Enchiladas with Mexican Quinoa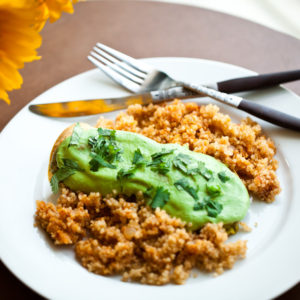 Author:
Carrots and Flowers
16 corn tortillas
8 slices vegan mozzarella (recommend Field Roast Chao Slices)
Filling
1½ 4 oz cans green chilis
2 cloves garlic
1 chopped yellow onion
1 lb organic firm tofu
1 tbsp grapeseed oil
1 chopped green pepper
1 tsp sea salt
½ tsp cumin
½ tsp chili
Mashed Potatoes
4 peeled, chopped potatoes
1 tsp salt
2 tbsp vegan butter
3 tbsp non-dairy milk
½ tsp garlic powder
½ tsp black pepper
Green Enchilada Sauce
2 jars green salsa
2 cups cashews soaked for 2 hours or overnight, then drained
1 tsp nutritional yeast
2 tsp tapioca flour
1 cup cilantro, tightly packed stems removed
Easy Mexican Quinoa or Rice
1 cup quinoa or brown rice
½ 4 oz can green chili
½ 4 oz can tomato sauce
1 tsp garlic powder
1 yellow onion chopped fine
1 tsp red pepper flakes
2¾ cups veggie broth
2 tsp sea salt
2 tbs vegan butter
Preheat the oven to 375. Combine all ingredients for the Mexican quinoa (or rice if you prefer) in a rice cooker. If it's a small rice cooker, place a towel underneath it in case it bubbles over at any point. Set the rice cooker and move on.
In a small sauce pan, bring water to a rolling boil (enough to cover the chopped potatoes). Add the potatoes and cook until they are tender, about 5-7 minutes. Remove from heat, drain the water, and place the potatoes in a medium sized bowl. Mash them with a potato masher or fork and stir in the remaining ingredients. Set aside.
While the potatoes boil, melt the oil on medium high heat. Add the onions, cook for 1-2 minutes until translucent. Stir in the chopped garlic and sauté for another minute. Add the green pepper, cumin, chili powder, and 1 tsp sea salt. Stir to combine. Crumble in the tofu, then add 1½ cans of green chilis and mix well. Cook for 5-7 minutes, stirring often.
In a high powered blender, combine the green salsa, soaked cashews, nutritional yeast, tapioca flour, and cilantro. Blend on high for 2-3 minutes until the sauce is smooth and creamy. This recipe makes a lot, so you'll have extra!
Grease two glass cooking pans with a small amount of oil on the bottom and sides. Spread 2 tbs of green enchilada sauce on the bottom of the pan. In the center of a tortilla, spoon a dollop of mashed potatoes in the center. Top it with ½ a slice of vegan cheese, and a large scoop of the tofu filling. Carefully roll up the tortilla and place it seam side down on the pan. Sometimes the tortilla will split. To avoid this, warm your tortillas before filling them.
Repeat the filling process with the remaining tortillas and spread ⅔ of the sauce on top with a spatula. Bake at 375 for 30 minutes. Top with the rest of the sauce and serve with Mexican rice or quinoa.
Recipe by
Carrots and Flowers
at https://www.carrotsandflowers.com/vegan-green-enchiladas-recipe/