Black Bean and Soyrizo Breakfast Burritos with Easy Chipotle Cream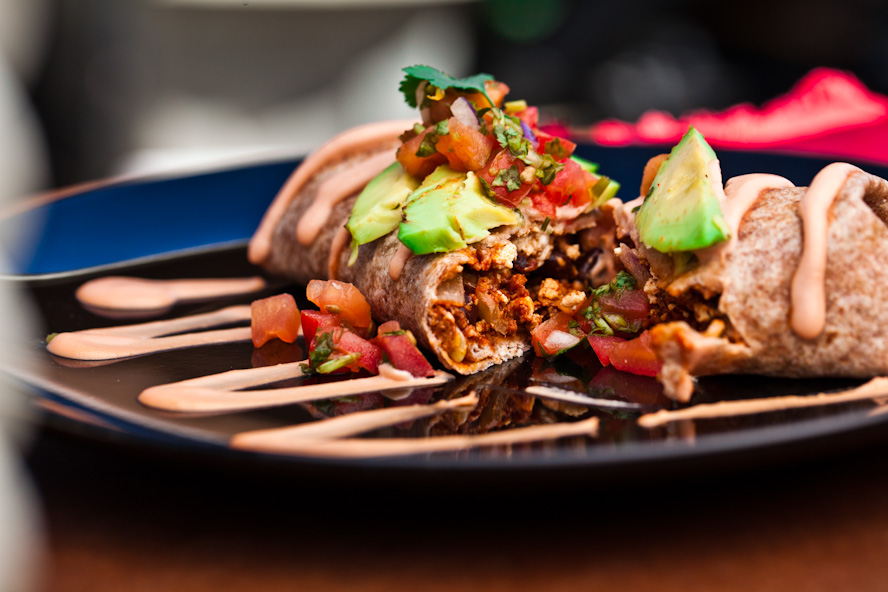 Author:
Carrots and Flowers
Recipe type:
Breakfast, Brunch
vegan tortillas (we used whole wheat)
1 lb organic firm tofu
1 can black beans
1 package soyrizo
1 tablespoon grapeseed or other cooking oil
1 yellow onion
2-3 cloves garlic
1 cup raw cashews
1 cup salsa
avocado
¼ teaspoon sea salt
¼ teaspoon chili powder (optional, if you like spicy)
pico de gallo for garnish (recommended)
cilantro for garnish (optional)
In a large skillet, heat the grapeseed oil over medium high heat. Add the onion and sauté for 1-2 minutes until the onion becomes slightly translucent then add the garlic. Sauté for another minute then add the soyrizo. Keep stirring for 1-2 minutes then crumble in the tofu.
Mix the tofu into the soyrizo until it is thoroughly covered and the tofu turns orange. You want the yummy soyrizo flavor to get into the tofu! Stir in the black beans and reduce heat to medium. Cook for another 3-5 minutes, stirring often.
Heat the tortillas in a covered skillet on medium heat for 10-20 seconds. Spoon a dollop of chipotle cream onto a tortilla and top it with a heaping scoop of the soyrizo mixture. Roll up your Black Bean & Soyrizo Breakfast Burrito and top it with more chipotle cream, avocado, and pico de gallo.
Chipotle Cream- Soak the cashews for 2 hours or overnight, then drain. I usually keep soaked cashews in the freezer, but if you're short on time, you can boil the cashews for 10 minutes to soften. Combine the soaked cashews, sea salt, salsa, and optional chili powder in a high powered blender. Mix on high until the chipotle cream is smooth.
Recipe by
Carrots and Flowers
at https://www.carrotsandflowers.com/vegan-soyrizo-breakfast-burritos-recipe/