Pesto Pasta with Mushrooms and Peas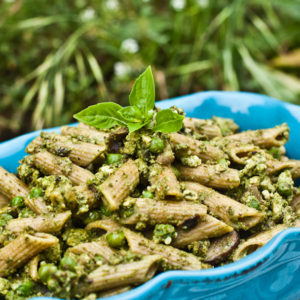 Author:
Carrots and Flowers
Cuisine:
Vegan, Gluten-free Option
1 cup Vegan Pesto
10 oz penne or fusili pasta (use brown rice pasta to make this gluten-free)
16 oz organic firm tofu
2 cups sliced mushrooms
1½ cups frozen peas
1 tablespoon grapeseed oil
½ teaspoon sea salt, divided
black pepper to taste
Prepare the pasta according to package instructions. Press the excess water out of the tofu, blot with a paper towel, and dice the tofu into small cubes.
In a large skillet, heat the oil over medium heat. Add the tofu and sprinkle it with ¼ teaspoon sea salt. Cook for 5-7 minutes until golden brown on all sides, stirring often.
Add 3 tablespoons of Vegan Pesto and mix until the tofu is coated. Stir in the mushrooms and peas and cook for another 5 minutes until the mushrooms are soft.
Stir in the pasta and the rest of the Vegan Pesto. Mix well until the pasta is heated.
Recipe by
Carrots and Flowers
at https://www.carrotsandflowers.com/pesto-pasta-salad-mushrooms-peas/