Raw Vegan Strawberry Cheesecake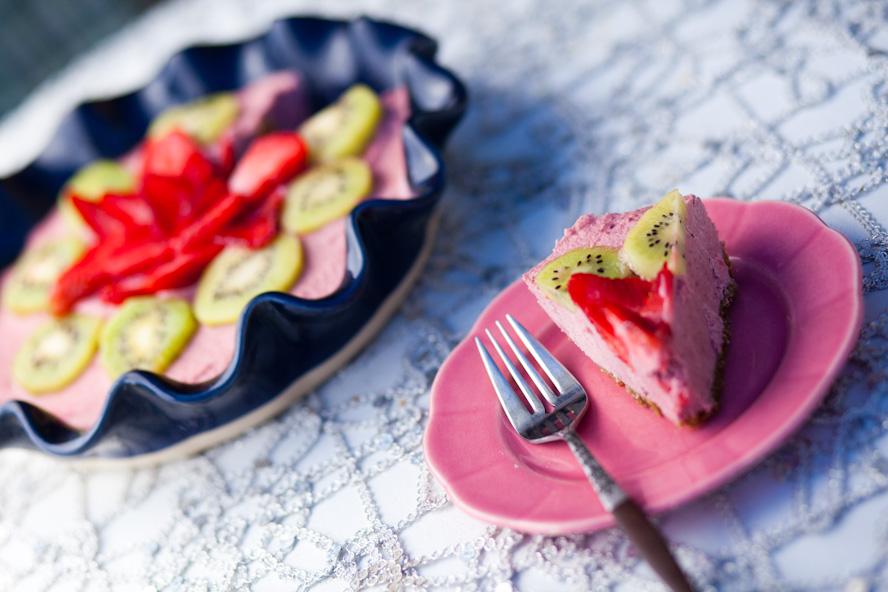 Author:
Carrots and Flowers
2 cups raw cashews, soaked overnight and drained
2 cups strawberries, plus more for decoration
2 kiwis
1 cup raw pecans
1 cup dates, divided
½ cup rolled oats
1 tablespoon maple syrup
½ teaspoon sea salt
¼ teaspoon cinnamon
If your dates are the large soft medijool kind, you are good to go. If they are the smaller kind that is dry and hard, soak them in warm (not boiling) water for 15 minutes before you begin.
In a food processor or vitamix, combine the pecans, oats, salt, cinnamon, and half a cup of dates. Blend until the mixture is soft but grainy. Press the mixture into the bottom of a large pie or tart pan.
Again in a processor or vitamix, add the strawberries, cashews, dates, and maple syrup. Blend until smooth and creamy. Layer the strawberry mixture on top of the crust. Smooth the layer out, then decorate with strawberry and kiwi slices.
Freeze for at least 3 hours to set the raw vegan strawberry cheesecake.
*20 minutes indicates active time only, not the soaking of the cashews or freeze time. I like to keep soaked cashews on hand in the freezer to speed things up.
Recipe by
Carrots and Flowers
at https://www.carrotsandflowers.com/raw-vegan-strawberry-cheesecake/