Green Goddess Parsley Hummus with Homemade Taro Chips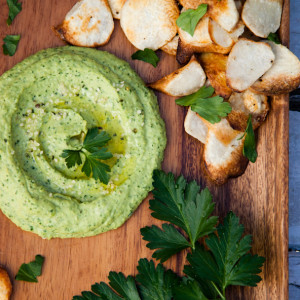 Author:
Carrots and Flowers
Cuisine:
Vegan, Gluten-free
Parsley Hummus
1 can chickpeas, drained (save the liquid! it makes an excellent egg replacer)
1 cup parsley, chopped and tightly packed (roughly one large bunch)
¼ cup tahini
¼ cup extra virgin olive oil
¼ cup hemp seeds
3 cloves garlic, finely chopped
1 tablespoon nutritional yeast
1 tablespoon kelp powder (optional)
1 teaspoon sea salt
cracked pepper to taste
Taro Chips
5-6 small to medium taro roots
1 tablespoon coconut oil
1 teaspoon corn starch
1 teaspoon sea salt
cracked pepper to taste
Parsley Hummus - Combine all ingredients except the olive oil in a food processor. Mix for 30 seconds, then slowly stream in the olive oil. Keep processing for 1-2 minutes until smooth.
Serve with Homemade Taro Chips, fresh veggies, or use as a sandwich spread or topping for a tasty vegan bowl!
Preheat the oven to 450 degrees. Peel the taro and slice into very thin chips. The thinner the slices, the crispier the chips will be. Mine were approximately ⅛ inch.
Taro Chips - Toss in a bowl with corn starch, salt, and pepper. Add the coconut oil and mix with your hands until each chip is covered. Spread the chips in an even layer on an oiled cookie sheet. Try to get most of the chips to lay flat on the pan.
Bake the chips at 450 for 30 minutes, flipping halfway. Let cool for 5 minutes if you plan to eat them with your hands!
Recipe by
Carrots and Flowers
at https://www.carrotsandflowers.com/green-goddess-superfood-parsley-hummus/